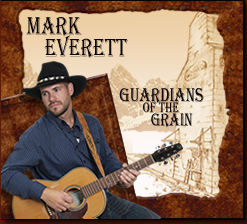 It was mid December 1983 when my father and I went for a serene holiday walk. He was searching for ideas for a Christmas gift and was
looking for me to provide him some clues. I'm thankfull for that walk. If it had not happened I'd never have gazed through that music store window, given the reactive clue my father was searching for and received my first guitar.
Both parents were very supportive of me playing. My Dad explained to me, in no uncertain terms, that if I hadn't learned to play it in a year, the guitar was going back. Eventually both he and my mother complimented me when I had reached the level of Dad's expectation and everybody began to relax and enjoy. The guitar got to stay.
No matter what has happened in my life since then, I have always felt that old guitar has been there as my one truest friend...and music the truest form of my personal expression. I live for that!
I soon discovered that as much fun as it was to play, it was even more fun to write and play my own material - experiencing the joyous taste of sharing my personal expressions with others. While living on the island of Molokai, Hawaii, I performed during our church dinner. Afterward, one of the fellows approached me and pronounced me as being "the man who brought country music back to Molokai." My first claim to fame. I still think of that now and again and laugh.
Growing up I drew influence from many different artists. Some would be Hank Thompson, George Jones and later Radney Foster and Randy Travis. As I get older, I realize that only time brings life experiences that make for real personal artistic influence. For me, blessings and trials such as becoming a father, losing loved ones, and just plain old laughs and struggles down life's sometimes hard and dusty road are ultimately the greatest sources of my music. One of the songs I recently wrote was influenced by the story of a single mom to whom I was introduced. She had adopted a child from China and is now making an amazing difference every day in the life of that little girl. That to me is such a positive example and a worthy topic for a song.
I met Clyde Jorgensen in 2001. He was the one who turned my idea of recording a CD into a reality. We took some material he had written, some I had written, and co-wrote a couple of tracks, putting them together to create the Guardians of the Grain album. It has been a thrill to see these songs develop, be recorded and now get to share them. I've worked hard my whole life at everything I have tried to do and this project was no different. The success of it was made possible by Clyde and Billy William's awesome talent and patience. These two veterans of the business made me laugh every time we were in the studio so even though we put our all into it, it never felt like work. Thanks guys.
My work and family keep me travelling the highway between the northern Alberta family farm near High Level and my southern home near Lethbridge. New friends and family along with all the time spent in Phoenix has made me feel like I have a third home there as well.
I really hope my music connects with the folks who hear it. This first project has really opened up an exciting chapter in my life. I am already working on new material for another project, but am first very anxious to see the response to the Guardians of the Grain. I am really hoping everyone comes to enjoy these songs like I do.
That's what it's all about!
Mark Everett
Listen to a few tracks - we think you will be pleased!